A Sweet Escape: K'gari (Fraser Island) Bareboat Yacht Charter Holidays
Self drive Yacht Holidays From $83 per person per night
Sweet Escape Yacht Charters offers luxury, affordable boating holiday experiences, cruising the spectacular world heritage renowned K'gari (Fraser Island) waters, Queensland, Australia.
You're the skipper, you plan the experience, at your own leisure and pace. Infinite opportunities for adventure and discovery await, limited only by your imagination. Fraser Island, the Great Sandy Strait and north to the Great Barrier Reef offer a magnitude of safe waterways and quiet, picturesque anchorages which can be yours alone to enjoy.
Share the experience and adventure of a lifetime with a family, a large group of friends, or business colleagues and charter world class area that is Fraser Island. No licence is required, just some prior boating experience, as you will receive a comprehensive briefing before you set sail on your Sweet Escape yacht Charter.
Whether you have limited experience, wanting to learn to sail, or you are a seasoned sailor wanting to cruise the Queensland coast, we offer a variety of services to make sure your boating holiday with us is enjoyable and memorable. Please enquire about our sail training, option of hiring a skipper, guide or instructor for local and extended cruises.
With over 10 years experience in yacht and catamaran sailing charter operations in the Fraser Coast region, we have extensive local knowledge and can offer assistance and advice on all aspects of your boating or sailing holiday to the Fraser Island Coast and Hervey Bay in Queensland's most beautiful waters. We offer a personalised, professional service and our aim is to ensure that your Sweet Escape charter is memorable and enjoyable.
SAIL IN PARADISE WITH NO LICENCE REQUIRED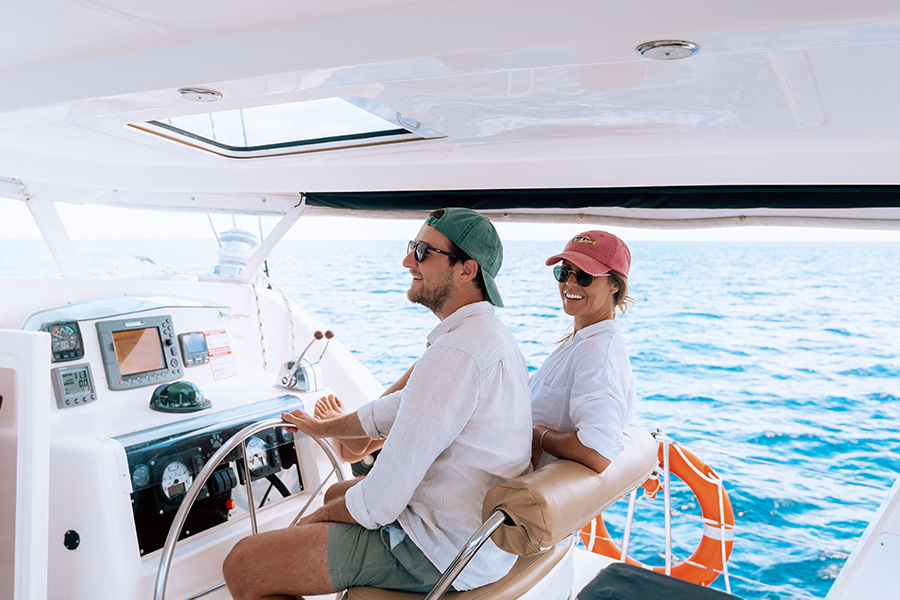 A bareboat is a boat hired without a skipper or crew. You are the captain, with no licence required. A little knowledge and common sense is all you need. The Fraser Coast is home to some of the finest cruising grounds in the world and the sheltered waters on the western side of Fraser Island are calm making it perfect for first timers and seasoned sailors alike.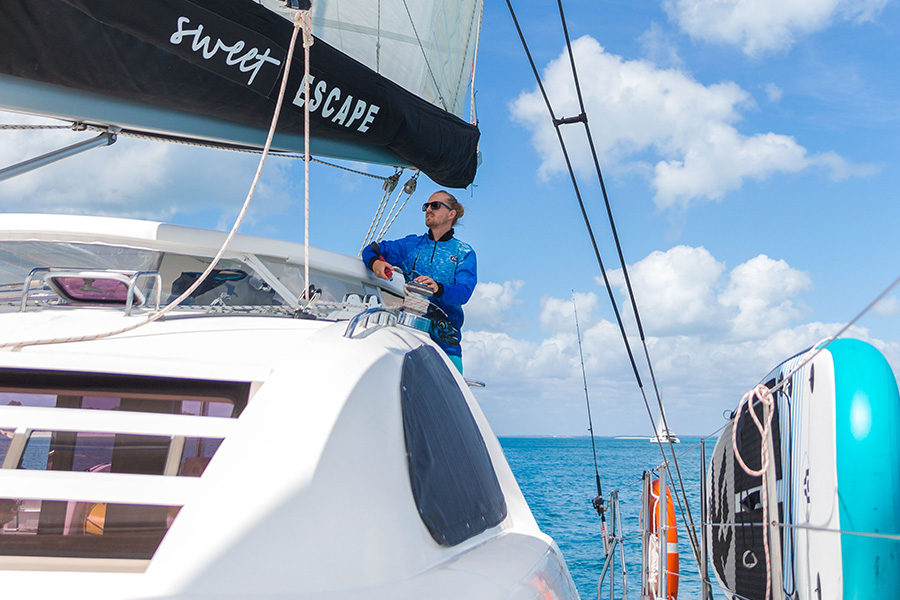 If you are new to bareboating and want a little more confidence before embarking on your self-drive experience, or whether you want to learn sailing, or gain that extra bit of local knowledge, then having an experienced Guide is a great option.  If you are interested in our extended cruising zone to the Southern Great Barrier Reef, having a Guide is mandatory.
Whether you are looking for day, or overnight private charters to celebrate a birthday, a honeymoon or a way to host a unique corporate function, Sweet Escape Charter can help you create a skippered charter that will be fun, safe and memorable cruising in Queensland's best kept secret paradise (Fraser Island waters).
FOR YOUR FRASER ISLAND YACHT CHARTER EXPERIENCE
The Great Sandy Strait and Fraser Island's West Coast is Paradisiacal, nothing less than a wonderous marvel. From pristine Wathumba Creek to Kingfisher Bay Resort, the cruising area offers breathtaking beauty and exclusive experiences yours only to enjoy.
Whether you seeking a relaxation holiday on the water, an immersive natural experience, or something more of an adventure, the area offers soft, white sandy beaches, secluded bays, serene creeks and indescribable sunsets, with no lack of activities or places to discover. Swimming, fishing, snorkeling, bushwalking, kayaking, whale watching… there are so many ways to enjoy the wonders on your Queensland Yacht Charter holiday to the Fraser Coast.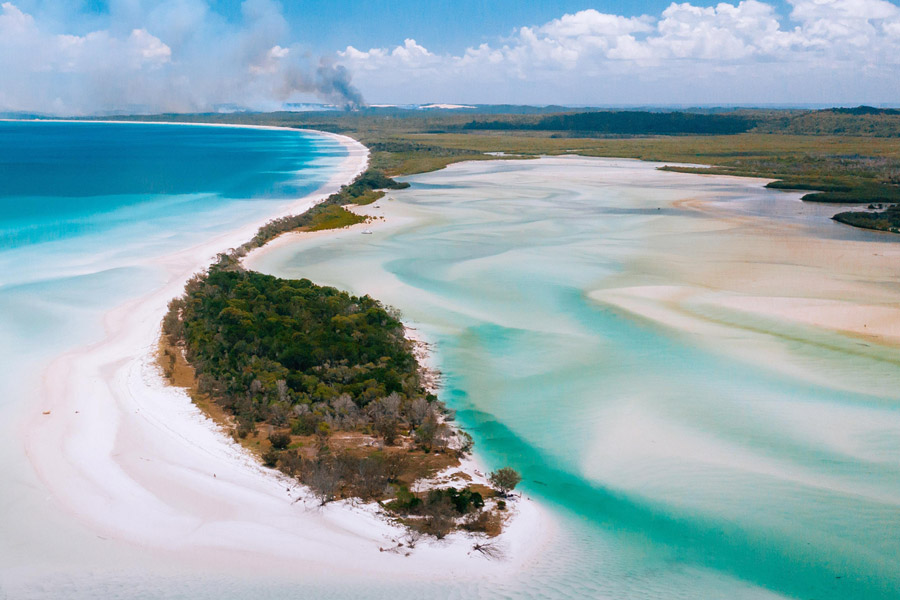 Known as the Hill Inlet of the Fraser Coast, Wathumba Creek is a magical, picturesque place with all your favourite activities on offer. Snorkel in the creek with turtles, swim in the crystal clear waters, navigate up the creek in the tender, or walk along the white sandy beaches. It is no wonder this is one of the favourite anchorages.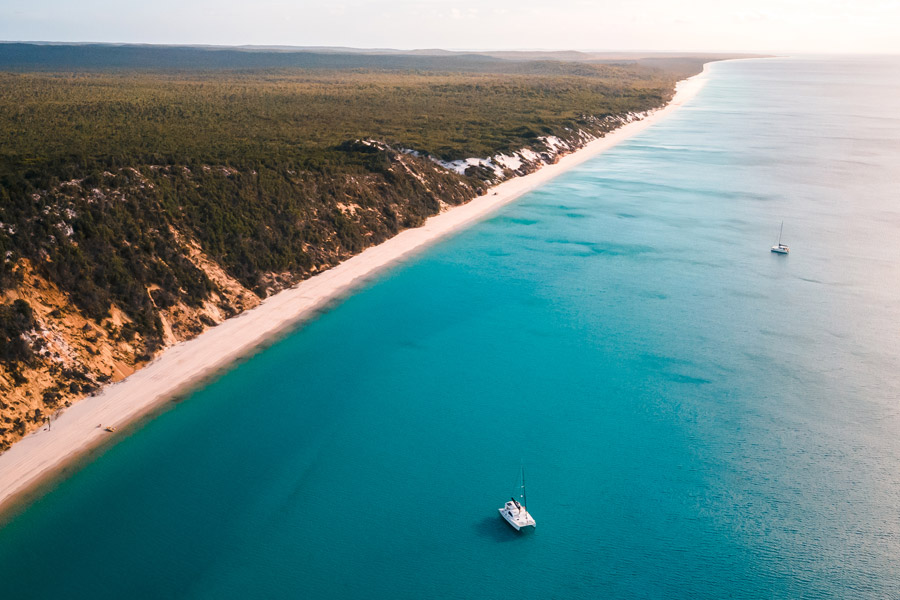 The coloured sand hills of Triangle Cliffs make for a perfect spot to watch the sunset across the ocean. The stretches of white beach make for a great spot to enjoy a picnic or game of beach cricket.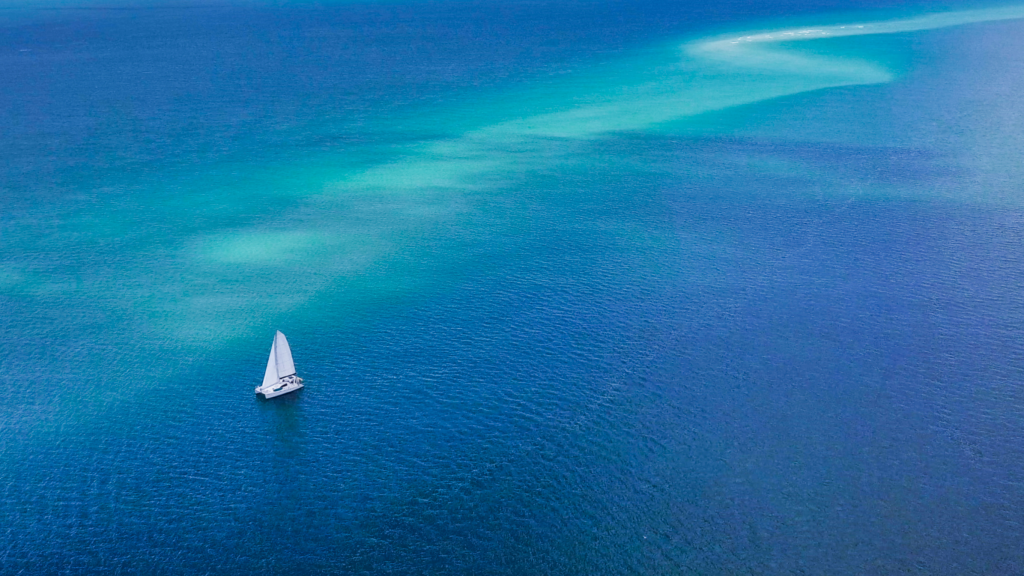 Moon Point is the closest anchorage to the harbour and provides protection in a variety of winds. The area is full of adventure with close access to Moon Point creek for fishing and crabbing, or Pelican Bank for swimming and relaxing.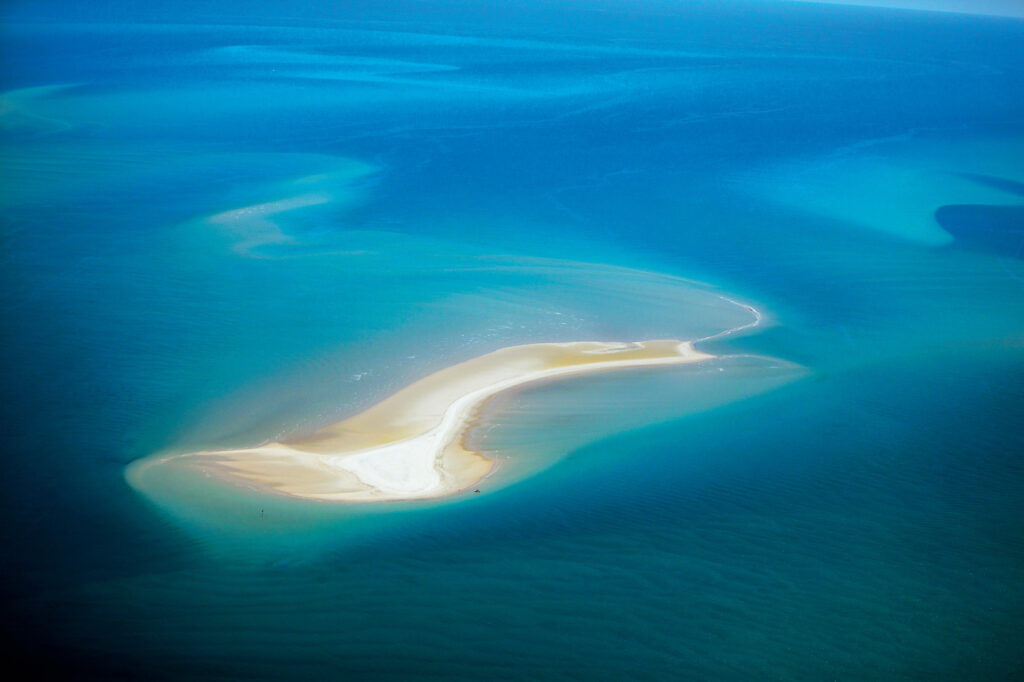 Our cruising area encompasses the safe and sheltered waters of the Great Sandy Strait and north into Platypus Bay on the remote western side of Fraser Island. Our home port of Hervey Bay and Fraser Island is a short 3 hour drive north of Brisbane, while the local Fraser Coast Airport offers direct flights from Sydney and Melbourne.
The Fraser Coast is Butchulla country and the locals call Fraser Island, K'Gari, which translates to 'paradise'.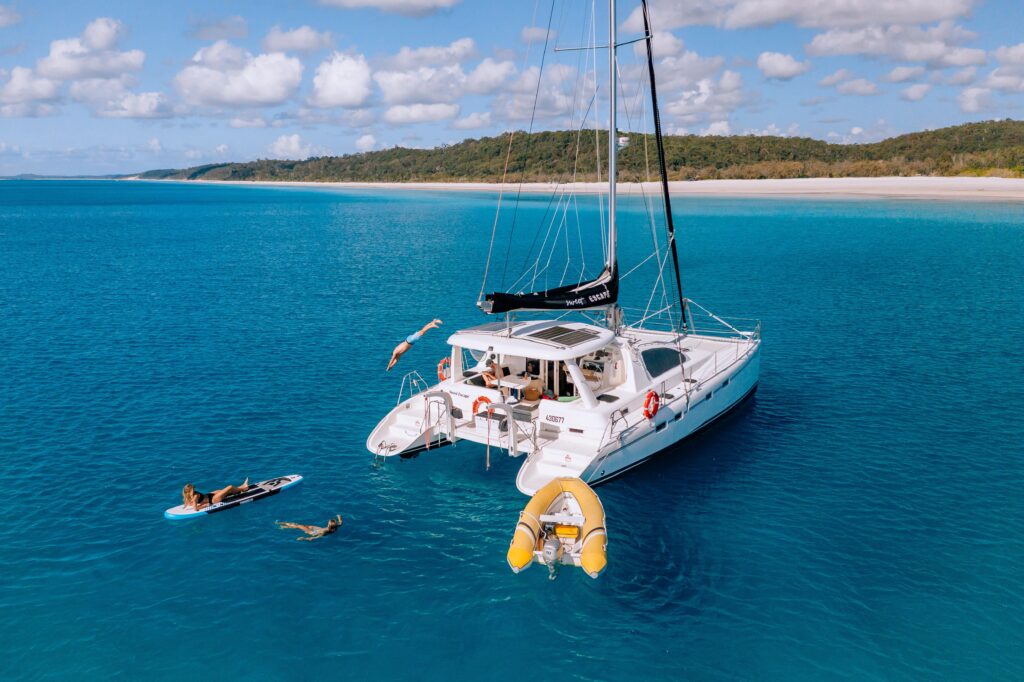 Whether it is a bareboat charter (self drive), half or full day fishing charter, or a guided sailing charter, we offer you a unique boating experience in one of the most idyllic places on earth.
This aquatic playground offers first timers, and experienced yachtsman alike, a variety of experiences from snorkelling, hiking, fishing, sailing, animal watching to sunset watching, sand hill climbing and lots of relaxing.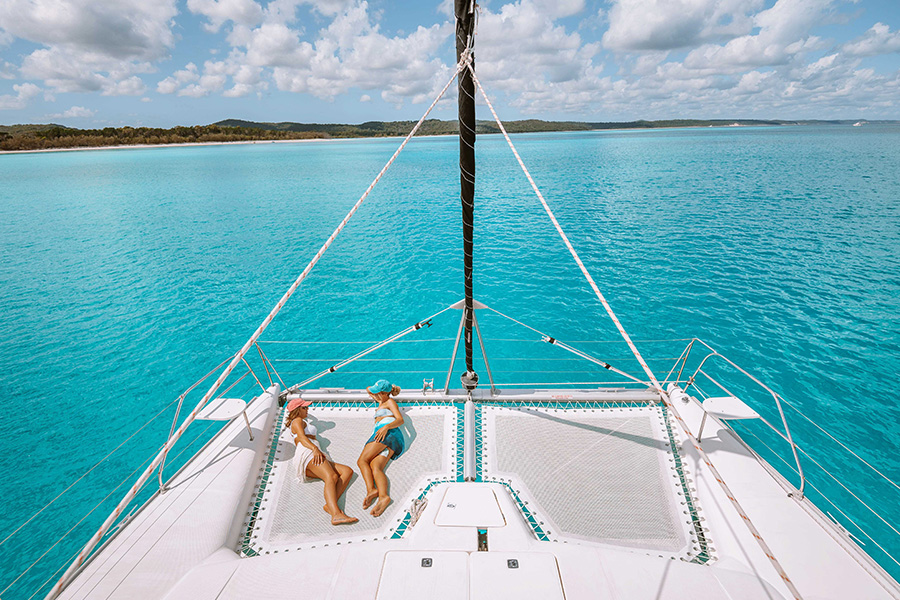 It is one thing to explore this paradise by car, but hiring one of our luxury catamaran vessels will give you an unique and exclusive opportunity to explore the area in style and at your own pace.
Although having qualifications is great, this holiday experience is no-licence required. We brief you completely before you set sail and are there to help you throughout your charter.
Check availability today.
A word from our past guests
This honestly was one of the best weekends of my life. I was really impressed with the boat and facilities. Super comfy stay for 4 couples, each with own double bed, shower and bathroom facilities. Thanks so much for having us Sweet Escape Team.
Chris Macklin
Our idea of a perfect holiday is sailing on a beautiful boat, in a magical location with nothing but the sound of our favourite music, a good glass of wine and perhaps the zing of the fishing line interrupting the serenity. Rohan and Keira, thank you for delivering everything we could have imagined.
Alan and Jenni
Amazing boats, beautiful crystal clear water, incredible marine life, magnificent sunsets- we could go on and on. No matter how many times we visit, we still get so incredibly excited by the adventure of cruising Fraser Island.
Kate & Phil