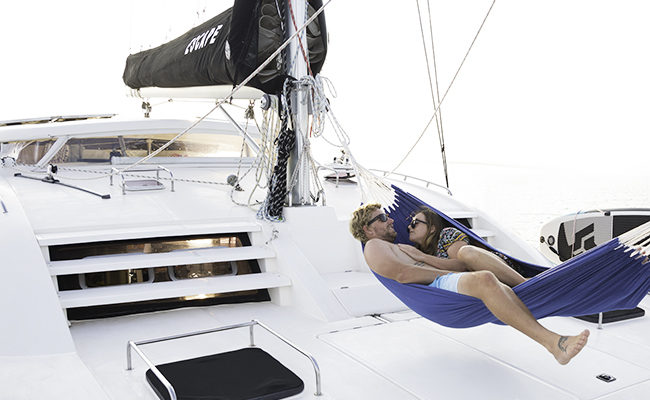 Meet the team
Having grown up in the area and previously operated other yacht charter businesses, partners Rohan and Keira have extensive knowledge of the area, the vessels, and offer a friendly, professional service.
Operations Manager, Rohan, is the friendly face down at the marina, who ensures your holiday goes off without a hitch. Rohan looks after the repairs and upkeep of the vessels and conducts all the briefings on the boats operations, safety procedures, and navigating the area to ensure your holiday with us is safe and memorable. A keen boating enthusiast, Rohan loves to get out on the water as much as possible whether its sailing, fishing, diving or fixing boats- any excuse will do! He will gladly chat for hours to you about your holiday with us and any other experiences on the water you wish to share.
Assistant Operations and Reservations Manager, Keira BBus (Marketing), looks after all the reservations and also manages the business marketing, marina staff and administration for Sweet Escape. Having grown up working in her family's previous yacht hire business, Keira has been looking after charterers for over 9 years. Keira goes above and beyond to make your experience with Sweet Escape comfortable, safe, enjoyable and memorable, always on hand to answer any question that you might have. Keira has a real sense of adventure, often travelling whenever she gets the chance, and is conscious about preserving that natural wonders of this world so that everyone gets the opportunity to explore.